Consul General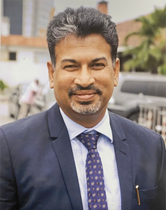 Shri Chandramouli Kumar Kern
Consul General
A Postgraduate in Public Administration, he joined the Ministry of External Affairs in November 1996.

He has served in different capacities in the Indian Missions/ Posts in Jeddah, Bratislava, Tashkent, Berlin and Erbil. He was Consul General of India in Erbil during 2018 -2020. At the Headquarters, he has served in Administration and Establishment Divisions of the Ministry of External Affairs, New Delhi.

He takes active interest in Yoga and indoor sports like carom, table tennis and Badminton.

He is married to Mrs. Nita Kern and has two children.